Front Sight

Facility Update and

2-Day

Practical Rifle – Fall 2012
Front Sight Course Review
Jon L.
Editor's Note:
Jon is a serious "Gun Bunny" and really knows his stuff. He can machine and Lathe just about anything, and he has worked for Front Sight for more than 10 years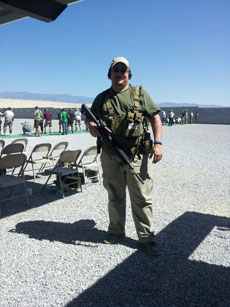 Compared to 2007, at my last class, the facility was amazing-all of the improvements were stellar. There are 10-new ranges on phase two, a new bathroom, and all new sign in offices. The rental packages and ammo bunker are close by for the students to be run through on a single range at sign in and weapons inspection. The facility was spotless; I could not find a weed anywhere. There were close to 500 students there this weekend, and it ran without a hiccup. Also, the pro shop was stocked to the gills.

The new Front Gate was finished while I was there, and it is awesome!!!! It has a Spanish tile roof and finally looks like what the initial plans called for years ago. If you would like to see the gate, click here.

During the Checking Process, the 90-minute windows for signups went super smooth. We had a couple typical student issues, though. Two of my buddies had to buy electronic ears, and one guy had to buy Ammo because his ammo wasn't kosher. He walked over to the Ammo Bunker (run by Stockpile Defense) to purchase some; and they had great prices, even better than what I can get in Sonoma County.
Technical Information Available Here.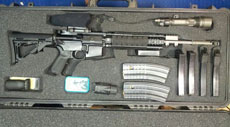 Visit the Technical Information of this Custom AR-15 Build Out on this Technical Review Page. Weapons on the right includes: Custom Built AR-15, 6.8 SPC, w/ Adam Arms Gas Piston
So what about my class?
I took the 2-Day Practical Rifle, which makes it my 6th or 7th class at Front Sight.

The classes are slower on day one to make sure all of the students have the mastery of the basics, so they can be pushed to the limit and then backed off to an acceptable level of speed and accuracy over the duration of the class. Excellence begins with the basics.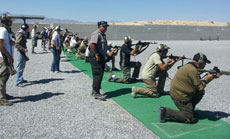 The class was well represented with brand new rifle students, ranging from some who did not even own a rifle rented a school gun to take the class to guys like me who had taken several classes and went to test a new set up, chest rigs and gear and had to decide what rifle to take out of the safe. I saw friends and husband, wife and son taking training with us. I came out with 4 other guys to take classes.
Due to the shorter duration of the two-day classes, there was not a lot of down time to get to know everyone in the course and build that camaraderie like in times past, but that means we are shooting more and less hanging out around the water cooler. I actually enjoyed the student coaching approach due to being able to watch closer the drills being taught.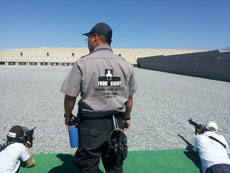 If you can, take a 4-day class-though the gun handling is the same, you get more time to refine what works for you, personal gear set up and a lot more shooting out to 400 yards.

I can't wait to go back again.