This is Part 2 of my review of Front Sight's Handgun Combat Master Prep Course. I just completed this course for a 2nd time, and I have additional perspective. First off, if you have not read Part 1 of my review, please do that now here: Part 1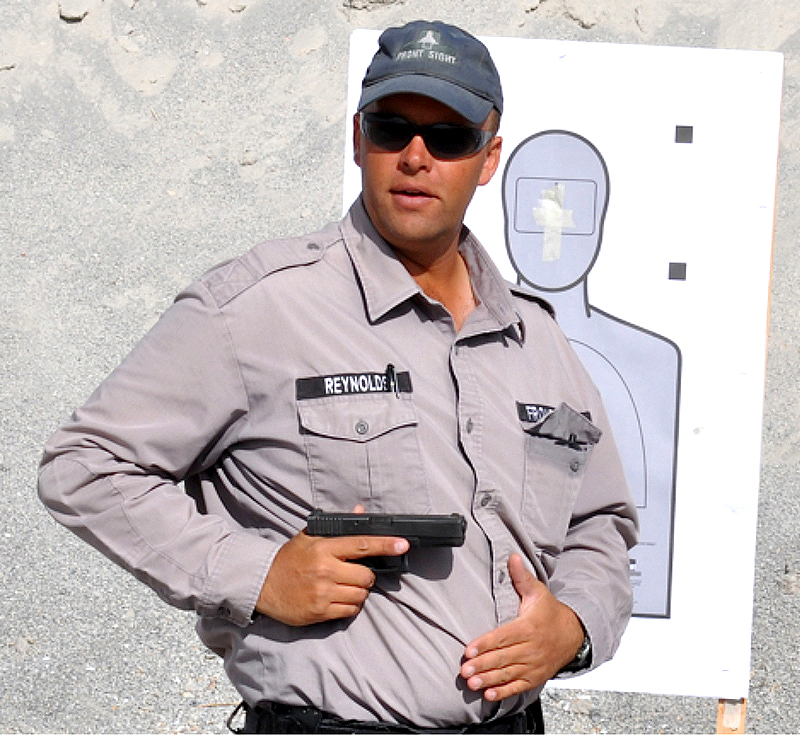 To be clear, this article is not about me, as I am not that fast with my Glock 21. Yes, to any 4-Day Handgun Student, I appear to be a "God of Handguns." LOL. But, in Front Sight's Handgun Combat Master Prep class, I was just average – if that. The November 2012 class featured an amazing group of very talented shooters, and a couple of them got VERY CLOSE to passing the Combat Master Test.

I had an opportunity to talk to two of these shooters and interview them in detail; their interviews are included. These two guys will certainly get their "Combat Master" titles very soon, possibly even as early as December 2012.

So before we dive into the interview: a quick reminder about Handgun Combat Master Terminology. The Combat Master test itself is a maximum of 400 points. Since you have recently read my part 1 review, I won't repeat myself with a discussion of the different sections of the test. If you ask a student in the class how they have the done on the test, expect an answer that is something along the lines of, "I shot down 150 (or 50, or 210, etc.)." In plain English, that means that the shooter started with 400 points possible, and they lost 150 points, or 50, or 210, etc., from the max possible of 400. This seems like backwards counting. Why do it backwards? Because, it's easier to just add up the points that are taken away (from the total 400) instead of adding up all the points that you still have. Ideally, the student wants to make that number less than 40 points. Shooting down only 40 points means you have a 90% on the test, and you pass – YOU ARE NOW A HANDGUN COMBAT MASTER!!! YAAA-HOOO!
Of course, there's always a "catch." The "catch" here is that you can shoot down 20 points on the test, but then, just like the 4-Day handgun skills test, there are the malfunction clearances, emergency reloads, etc. Many students have shot down UNDER 40 points, only to blow the malfunction clearances, etc., and loose additional points taking their score of 20 or 30 off and pushing it down to 45 or 50! To be so close, yet so far away!
This happened at least once in the November 2012 class to the students who I interviewed. It was a real letdown for them. So just because you are able to shoot perfectly, doesn't mean you're a "Combat Master." A Combat Master must be able to manipulate the weapon perfectly too!


Interview
Kyle Hinkle (Southern California)
Editor's Note:
A student who successfully passes the Handgun Combat Master test will have taken that test, on average, about 80 times. Over the course of a typical Master Prep class, student will have the opportunity to take the test at least four times.
Question: "Tell us about yourself and the things you're doing to improve your shooting for the Handgun Combat Master test. I know you have taken the Combat Master test like 50 times, and your scores are now in the 40 point range, so you're close!"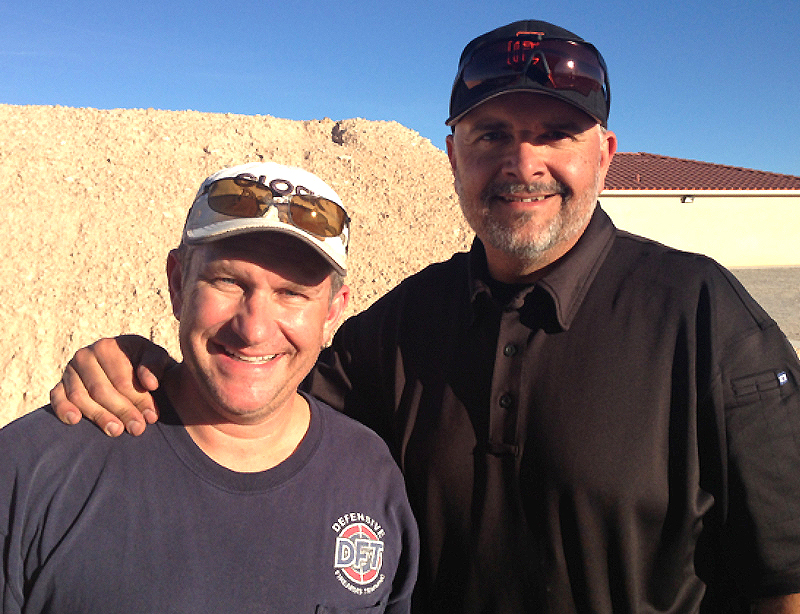 Kyle: Different things help different people. For me, I don't dry practice. I do a lot of tactics training, at least once a month, at different schools. With Front Sight, I come back and shoot the Combat Master test as often as possible. I have been taking the Handgun Combat Master Prep class now for 5 years. I expect to pass this test as some point soon, as I am now focused and dedicated towards this goal. I have the fundamentals down, so I am now fine- tuning my own personal techniques and things that work for me.
Question: "Tell me about your choice of weapon."
I shoot 45 ACP, 1911, but I started originally with Sig 226, full-sized .40. I shot fairly well. But for this test, having that double action and single action was a deal breaker; I figured I would never pass with that. So I moved up to a Springfield XD. That has worked well and I enjoyed that a lot. But then, of course, like most guys out here do, they switch over to Glock or 1911. I went with the 1911, and without a doubt in my mind, at the Master Prep level this makes a huge difference. The 1911 is made for the Master Prep level and the difficult head shots that are part of that test. So I shoot a Springfield Operator 1911. I have had my trigger cleaned up, but it's a stock gun, so nothing is tricked out. In fact, tricked out guns are explicitly banned from use in the Handgun Combat Master Test.
Question "Tell me about your stance. Front Sight teaches you about the Weaver Stance, and they are very rigorous about this in the lower level classes, but not so much in Combat Master Prep."
I agree with Front Sight's philosophy in the 4-Day Handgun class, in learning in Modified Weaver stance. What's worked for me, and what I would recommend to anyone who would ask me, is that I highly recommend people come out to Front Sight, take the 4-Day Handgun, take the Handgun skill builder classes, and master the Modified Weaver technique. You should "eat up" everything they teach because it's good stuff and when you start getting into Master Prep you can start playing with your technique, and experimenting with the Isosceles stance.

I kind of grew into Isosceles and it works for me. For me, I was having problems with the 50-yard shot on the Combat Master test – problems with consistency. It's a tough shot. So I moved more into an Isosceles stance and that has really helped. You see, I travel to other shooting schools besides Front Sight, and a number of them teach Isosceles technique. I am always asking, "Which technique is better?" The best answer I received was from Gabe Suarez and he said, "Do what works for you, but don't be married to one technique. There are times when you may need to shoot more close to the body, with bent elbows, like modified weaver, and if you know that technique, you're in good shape. And there may be times when you need an Isosceles stance." It can become an issue in a tactical situation: you might need one or the other.
Interview
Tim Sjobring (San Diego, CA)
Question: "Tell us about yourself and the things you're doing to improve your shooting for the Handgun Combat Master test. I know you shot down only 24 this morning on the test, but then it got away from you on the Malfunctions."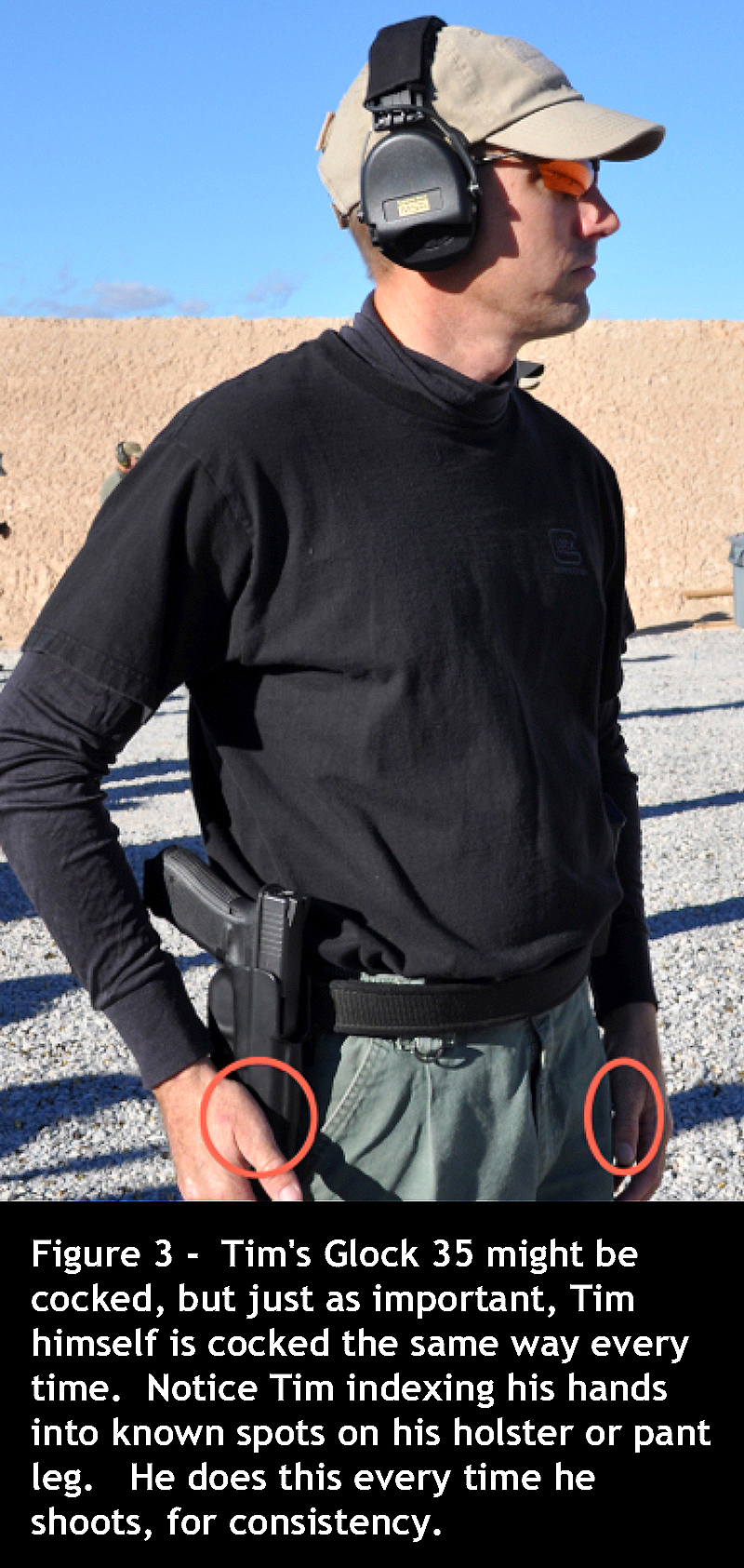 Tim: I joined Front Sight about one year ago, and have attended the Front Sight Combat Master Prep class 4 times. The first time I took the class I shot just under 100 down. With each trip to Front Sight I have bettered my score by about 20 points. In between these classes, I shoot local USPSA and steel matches. While most people shoot the Combat Master Test using the Weaver Stance, I am attempting to pass thetest using Isosceles. Although I have shot Weaver previously, in the world of competitive shooting, Isosceles is the predominate style. Professional sport shooters such as Rob Lethem, Jerry Miculek, and Todd Jarrett, all have million dollar shooting contracts. As I see it, there must be a reason they are all shoot Isosceles.

The thing is, once a person gets to the level of taking a Combat Master class, they are shooting at a fairly high level. Most possess the skills necessary to apply the 3 secrets taught by Front Sight and make the "perfect shot". The key is to make that perfect shot consistently. For me the trick is to be a machine, and force myself to make my shot the same way every time. I need to make the same movements on every weapon presentation. In my case, I index my right hand to a specific spot on my holster, and my support hand is indexed on a specific spot on myleft leg. I always start the drill in the same position.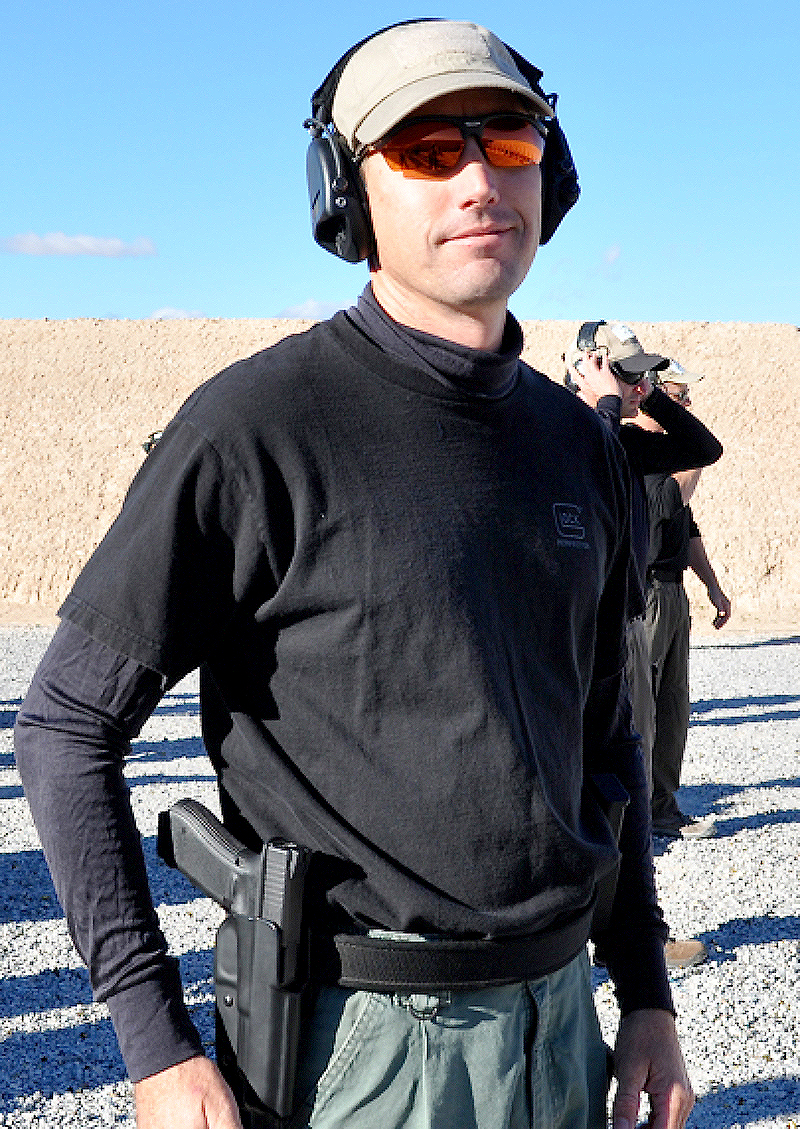 My shoulders are square with the target, and my right foot is about half a step back. The exception is when we are doing the "multiple drill." My feet are positioned for my last target and my shoulders are facing my first target, so I unwind as I move target to target.

The key is absolute consistency, and mental focus. The most important shot in the test is the next shot. The Combat Master Test is so hard; no one that I know of has ever shot a perfect score. The reality is you are going to have a miss and probably several. You can't dwell on a missed shot. You have to put that bad shot out of your mind and focus on nothing but your next shot. The mental part of the Master Prep is a huge component of a student's success.
Editor's Note:
The photos of Tim are of him shooting multiples, so he is bladed off quite a bit as opposed to his normal stance
I shoot the Glock 35 [See Editor's Note below].
Interview
Joe De Mattia (Has been down 100 out of a total of 400)
Question: "Joe, tell us about yourself. I know you're not as close to Combat Master as Tim, but what works for you?"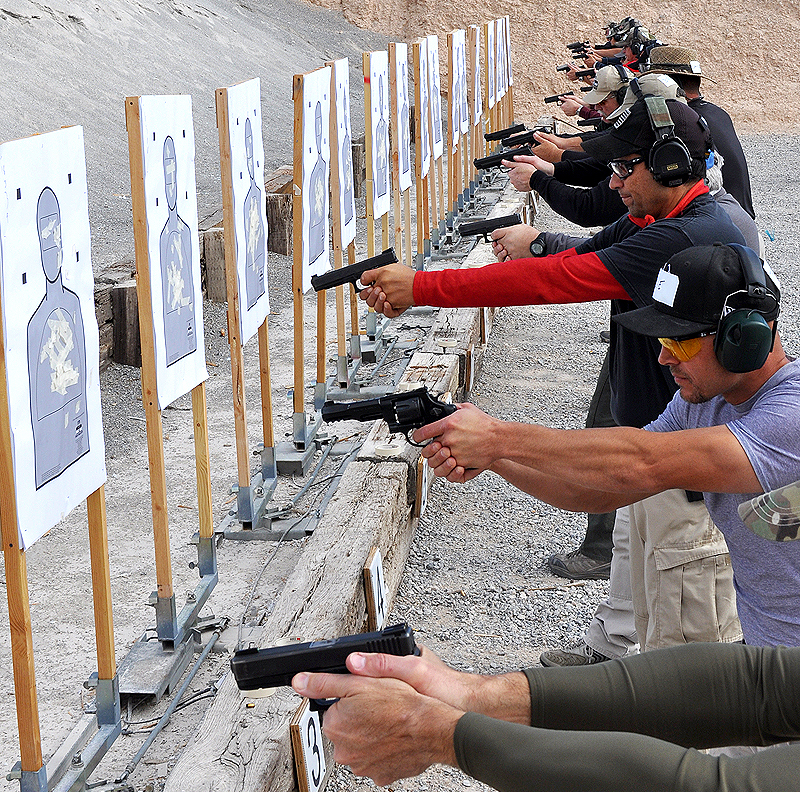 I shoot the Modified Weaver stance; I have tried the Isosceles, but I had a lot of problems with it. I shoot more consistently with the Weaver. This is my 3rd Combat Master Class. You learn to get into a routine. Holster in the same spot every time. Hands in the same spot every time. I also shoot the Glock 35, although I have shot this November class with the standard Glock 22 (full sized .40 S&W) just to see the difference.
Editor's Note:
Both the Glock model 35 and model 22 shoot the S&W .40 round. The 35 is a tactical pistol with a longer slide and adjustable sights. The trigger on the 35 is lighter, too – typically around 3.5lbs, versus the 5.5lb trigger for the standard Glock model 22.
This is the Palm Strike Step back. If you do not step back far enough…you will explode the paper target into pieces….like I did twice. Front Sight instructors don't think that is very funny…and they will ding you 5 points on the Master Prep test for making them tape your target back together. LOL :-)
Yes, that is Steve from LAPD with his revolver taking the Combat Master Prep Class. Steve actually doesn't carry the revolver on duty, so I am not entirely sure what possessed him to try the "revolver stunt" in the Master Prep Class. Yes, Steve is a badass. Behind Steve is Bart, who is exceptionally fast as well.