4-Day

Practical Rifle
Front Sight Course Review
Ken C. Jan 2005
Editor's Note:
This is a review for the 4 Practical Rifle class offered at Front Sight.
4 Day Practical Rifle

Student:

Ken C.

Occupation:

Retired Federal Agent

Weapon:

CAR-15

Ammo Used:

Approx. 300 rounds

Number Course Taken:

First time

Student Rating:

10/10

Course:

Front Sight Course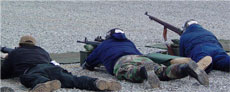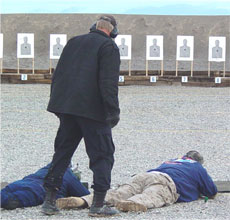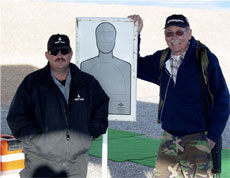 What are your General Comments?
My rifle and my training have been a very important part of keeping me alive for the past 35 years. Allow me to give you a few examples.

My Huey had just been shot out the air. It was July 4th 1969 in the Delta region of The Republic of South Viet Nam. I scrambled out of the Huey gunship holding my CAR 15 (the short version of the M-16), and I had three 40 round magazines. The Viet Cong made a rush out of the tree line about two hundred yards away, and I started firing full automatic at them. I quickly went through 80 rounds but forced them back to the tree line and away from the rice paddy that I was lying in. Our wingman made a pass over us and fired 2.75- inch rockets into the tree line, further suppressing the enemy fire. I switched to the semi- auto mode and only had 10 rounds of ammo left when one of the slicks rescued us a few minutes later. (I was awarded the Army Commendation with V device for this action.)

Over the next 28 years, I carried the civilian version the CAR 15 in my job as Deputy Sheriff and Federal Agent. In 1984, I was fired on in a Marijuana Garden on the Tahoe National Forest. I returned fire with my AR15 (Colt semi-auto Version of the M-16), and the suspect quickly gave up without firing again. Over the years, I qualified at both the local level and at the Federal LE Training Center (FLETC) at Georgia with the AR 15; but I never received any training that exceeded the great US Army training I got at Fort Ord, and Fort Benning.

This was about to change…fast forward to January 2005 and a little-known but rapidly expanding training facility called "Front Sight." For Christmas, my son gave me a certificate to attend the Two-Day Practical Rifle course. Having carried the rifle for many years, I felt that I just might be wasting my time on this training; but Front Sight has a reputation for exceeding your expectations and they didn't let me down.

Our instructor, Scott Hoeme, was the most knowledgeable and supportive rifle instructor I'd ever dealt with on a range. Soon, I started realizing how little I really knew about the Practical Rifle; and I can assure you, most cops are like me. After several "Chalk Talks", we were on the range, which was state of the art. Some of the other students had even less experience than I, but all of us made major strides in mastering the rifle. We shot over 200 rounds, received one-on-one instruction, and I made several new friends to boot.

What I learned at Front Sight is that they will take you from whatever skill level you are at (or whatever skill level you THINK you're at, which is not always the same thing!) and MAKE YOU BETTER. I'm a better shot now and have a better understanding of the rifle for self-defense and can't wait to get to the shotgun courses. If you want to have loads of fun and learn something that might just save your life, I'll see you at Front Sight.
Would you suggest this course to others?
Yes!