2-Day

Tactical Shotgun
Front Sight Course Review
Loren D. (Taken May 2012)
Editor's Note:
This is a review for the 2-Day Tactical Shotgun class offered at Front Sight.
2 Day Tactical Shotgun

Student:

Loren D.

Occupation:

Systems Engineer

Weapon:

Remington 870

Ammo Used:

Approx. 50 rounds each of birdshot and buckshot, plus 10-15 slugs

Number Course Taken:

First time

Student Rating:

9/10

Course:

Front Sight Course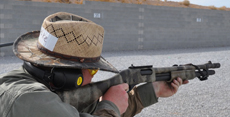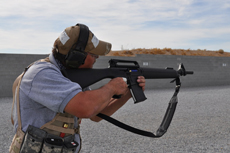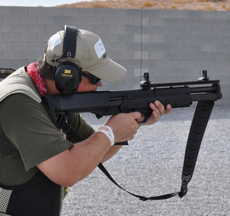 What were your reasons for taking this course?
The timing worked out great. I had about 8 or 9 friends who were taking it at the same time.
What are your General Comments?
The course was fantastic, and I learned a lot. I have been shooting for a while, and I corrected a lot of issues that I did not know that I had, especially for tactical shooting. Also, the course was extremely safe. With all of the handgun courses, they have the students holster their guns at their sides, while they walk around the grounds; so we were concerned how that was going to work with shotguns. However, the instructors addressed our concern, and it was all very safe.

The instructors were also fantastic. If we ever had any questions or had any problems, they were always right there to answer them. We had a rather large class containing 40-50 people with 4-5 instructors on the range. The function of the course was very good. We had plenty of time to ask questions, but also plenty of time to actually shoot on the range and have a good time. The instructors start off the course assuming that you know absolutely nothing about shotguns, and they even explain all the parts of a shotgun.
Do you have any tips for first-time students?
Ask all of the questions you need to and listen to the instructors. Some of the things that they teach are counterintuitive; but once you do what they say, your shooting improves tenfold.
Would you suggest this course to others?
Absolutely. A shotgun is one of the best home-protection guns, and this course teaches you how to use it.
How did you get there?
I drove from my home in Las Vegas.
Where did you stay?
I stayed at the Best Western. I've stayed there a couple of times, and I'm happy with it. Plus, they give you a Front Sight student discount.
How did you handle the ammo situation?
Purchased at the Wal-Mart and the Bass Pro Shop
How did you handle the lunch situation?
I brought sandwiches in a cooler.
Do you have any dinner suggestions?
Not really.
What other courses are you planning to take in the future?
I took the 2-Day Edged Weapons Course a couple of weeks ago. I plan to take the 2-Day Defensive Handgun and the 4-Day Advanced Handgun.