4-Day

Defensive Handgun
Front Sight Course Review
Doug A. (April 2012)
Editor's Note:
This is a review for the 4 Day Defensive Handgun Course class offered at Front Sight.
4 Day Defensive Handgun

Student:

Doug A.

Occupation:

Social Worker/ NRA instructor/ Private Security Consultant.

Weapon:

Glock 19 C

Ammo Used:

About 800 rounds

Number Course Taken:

First time taken

Student Rating:

9/10

Course:

Front Sight Course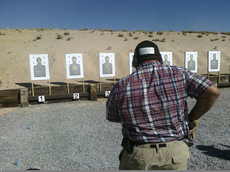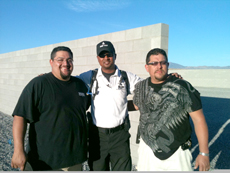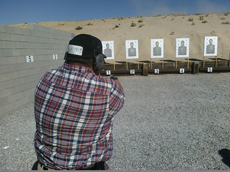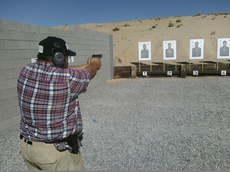 What were your reasons for taking this specific course?
I had heard really good things about it.
What are your general comments regarding this course?
It was a great course, very educational, and challenging. However, I was somewhat disappointed in the fact that they added the clearing out a jam to if you would pass the course or not. Other than that, I thought it was great and very professional; and I've seen lots of improvement with my shooting and marksmanship since the training.
Note from Richard Carlton/Editor: All the Skills at Front Sight require the students to perform a corrective actions to their weapons…in response to a Malfunction or "jam"…under timed pressure. Passing a skills test with 90% or better… allows you to proceed to graduate to more challenging courses.

Shoot from 3,5,7,10,15 meter lines, Performing Emergency Reloads, Performing Malfunction Drills, Performing Tactical Reloads.
Do you have any tips for first-time students of this course?
Yes, bring sun block and drink lots of water. Also, study the section for clearing a jam. It is very important if you want to pass the class.
Would you suggest this course to others?
Yes, definitely. I plan on taking the course again and bringing both of my sons with me next time.
How did you get there?
We drove from New Mexico.
Where did you stay?
We stayed at the Saddle West.
How did you handle the ammo situation?
I ordered in bulk before going.
How did you handle the lunch situation?
We ordered the box lunch from the hotel.
Do you have any dinner suggestions?
I ate at the more fancy Italian place. They had a great atmosphere and good food.
What other classes are you planning to take in the future?
I would like to take the 4-Day Defensive Handgun once again and then every other class available.